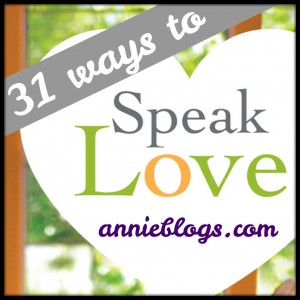 Every Monday of October, I want to share with you a song that speaks directly about the power of words.
People tweet or email or post this song to me ALL THE TIME because it is so much of what Speak Love is all about.
I love love love it.
"I don't wanna say a word unless it points the world back to You."
Phew. Yes. Amen.
. . . . .
SPEAK LOVE NOW
Post this video on your facebook wall or tweet a link to it. What words could you say today to point the world to Christ?
. . . . .
What are your favorite songs about the power of words? I'd love to hear!
And remember that we've made a Perfectly Unique Spotify Playlist as well as a Speak Love Spotify Playlist for you to subscribe to and enjoy!
This is Day 14 of 31 Ways to Speak Love. You can click here to see a list of all the posts in the series.