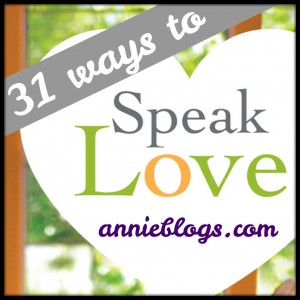 Every Sunday in this month, I'm going to share one verse that really has impacted me as I've studied and taught about the power of words.
I did a radio interview this week and the host asked, "when you are tempted to say unkind words, is there a mantra or a verse you say to yourself over and over again?"
I answered, "Sorry, I'm never tempted to do that."
JUST KIDDING.
I gave two answers.
1. I always say to myself "LONG TERM." That's my go-to phrase. I have to remind myself to think long term- don't say the thing in the moment that you want to say, think about how your words affect others and how things said are remembered much longer than we realize.
2. I think about this verse- Proverbs 16:24. Such a good reminder of the power of kind words.
. . . . .
SPEAK LOVE NOW
Share this verse with your friends! Post it up somewhere in your house, car, locker, or workplace and show us a picture! Tag @speaklovenow on instagram so we can see it!
This is Day 13 of 31 Ways to Speak Love. You can click here to see a list of all the posts in the series.