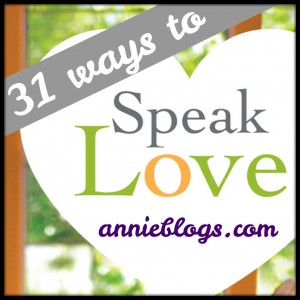 Every Monday of October, I want to share with you a song that speaks directly about the power of words.
People have been texting/emailing/tweeting/telling me about this song since the first mention of me having a book called Speak Love.
Toby Mac's Speak Life says all the things about words and how we use them and how we should. Honestly, Toby Mac and I have been in sync with our ministry since Jesus Freak, so who can be surprised. 🙂
But truly, this song is amazing.
And this video? INCREDIBLE. There isn't an official "Speak Life" video, but these students who run Radiant Identity have created an awesome piece of art to go along with the song. I'm super impressed with this media-focused ministry created by three teenagers. Booyah. Teens influencing their culture and changing the world? Yes and amen.
. . . . .
SPEAK LOVE NOW
Post this video on your facebook wall or tweet a link to it. Let's encourage our people to SPEAK LIFE and SPEAK LOVE today. And make sure you like Radiant Identity on Facebook so you can see all the crazy good they are making.
. . . . .
What are your favorite songs about the power of words? I'd love to hear!
And remember that we've made a Perfectly Unique Spotify Playlist as well as a Speak Love Spotify Playlist for you to subscribe to and enjoy! If you don't have Spotify, you can check out the list of songs here.
This is Day 28 of 31 Ways to Speak Love. You can click here to see a list of all the posts in the series.