I find it necessary to recap my life at the end of every year. Or, close to at least.
If you've got too much time on your hands, here is my 2007 recap and my 2008 recap. In 2009, I didn't want to officially recap apparently, I barely survived the stress of 2010, and in 2011 I barely survived deportation. 2012 was so fun and today I loved rereading 2012's best moments.
And now, as I think back on this year, I think of hard days and fun days and sweet days and tired days. But mostly? There is so much to be grateful for in 2013…
JANUARY: I spent a day in Florida with Christine Caine and Joyce Meyer and it changed me forever.
I wrote about that day here, but when I reflect on that day, it shaped my year, my career, my walk with God, and my life in ways that I feel every day. This is me and Christine Caine. She's a total hero to me.
. . . . .
FEBRUARY: I quit eating dairy this month after God really opened my eyes to the importance of treating PCOS like the real disease that it is.
And 10 months later, I'm still living without it and I'm so glad for all the ways God has moved me towards health, though we have many steps to go.
This picture is the morning I decided to quit dairy. I wrote about that day here.
. . . . .
MARCH: I finished writing Speak Love and signed the deal for the next book that comes out in 2014! 
I spent this whole month writing- finishing a book that God downloaded word for word, starting writing a book that was the hardest thing I've ever done. It took all spring and I cannot wait for you to read it later in 2014.
Here my family and I are celebrating the new book at a restaurant in Atlanta.
. . . . .
APRIL: While traveling and speaking were major parts of my spring (and fall), I also was lucky enough to spend every Tuesday night with my CrossPoint College small group gals.
In April, we spent time telling our life stories and then praying for each other. It was one of the sweetest seasons our group has known.
. . . . .
MAY: Vanderbilt baseball.
I went to a lot of baseball games. I celebrated the graduation of some of my favorite men. I cheered with the families as the boys played well and I cried with them when their playoff hopes fell apart right before our very eyes and right in on our own ballfield.
I could have never dreamed that I would love a group of guys like I love these. There aren't words. What God has gifted me in these relationships, in these little brothers, is one of the greatest joys of my life. No kidding.
I love them.
I also renovated my guest room because remember that book that was so hard to write? I found LOTS OF OTHER THINGS to do besides, you know, write.
. . . . .
JUNE: My speaking and travel season ended with a conference in Honolulu.
Tough life. I know. It was such a joy to serve the teen girls of Hawaii at the Bloom Conference. Here's my thoughts from that weekend.
. . . . .
JULY: I rested.
After I turned in the next book on July 4, I celebrated my birthday with friends, and then headed to the beach. Alone. With books. And a tired heart. It was the quietest few days of my whole life. It was healing and perfect.
. . . . .
AUGUST: Speak Love released!
Man. I am so proud of this book. I love how God is using it, I love how teen girls are responding to it. I feel so so so lucky to have been the person God picked to be a part of what He is already doing.
On it's first day of life, I took my copy of Speak Love to the bookstore to meet all her friends.
. . . . .
SEPTEMBER: The travel and speaking bug bit me like crazy, having me out of town 26 out of 31 days of this month.
Wow + tired. But way more WOW. I could not believe all the doors God opened this month for me to meet friends and speak to teenagers and connect with other people in ministry. An absolute highlight was preaching my first Sunday morning service (three times!) at Rock The Universe in Orlando, Florida. I wrote about that morning, and the marshmallow bricks, here.
. . . . .
OCTOBER: We blogged our little hearts out with 31 Ways To Speak Love.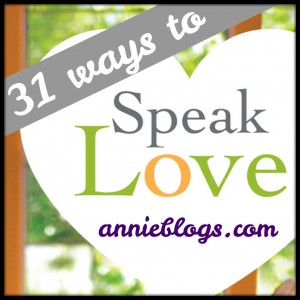 . . . . .
NOVEMBER: Another major travel month, with tons of fun opportunities to meet students, leaders, and independent bookstore owners!
I haven't mentioned it yet, but one of the highlights of 2013 was the Girls of Grace conference. I love the people. I love traveling with them. And I love the way God is moving in the hearts of teen girls and their moms and leaders.
. . . . .
DECEMBER: A day in Athens.
This was a great month of little travel, lots of rest, and tons of sweet time with friends. One of the best days of the month, heck- of the year, was spending last Friday in Athens, Georgia. There were many MANY people that I love dearly in that town that I didn't get to see since I was only there for ten hours. But the few I did? Life-giving. Heart-filling. Moment-making. It was a day of fresh air moving through my soul.
These are three of my best college/life friends. We met 15 years ago as freshman at UGA. Now? We live in Atlanta, Dallas, Nashville, and Prague. And amazingly, we were all able to convene in the same restaurant at the same time on the same day in our old college town. So sweet.
. . . . .
HIGHLIGHT #13: Learning lessons the hard way.
I excelled at this in 2013. Apologizing. Being humbled. Forgiving others. Forgiving myself. Promising myself that will each lesson learned, through each tear and trial, that I will work to retain the wisdom and not cycle through those lessons again.
Hopefully.
All of it has purpose. You know that, right? All the hard days, all the tired days, all the losses and all the gains, the good days, the best days. Every sunrise of 2013 was meant for us and every sunset to remind us that we survived another day.
Reminds me of Romans 11:36 (NIV).
For from Him and through Him and for Him are all things.
To Him be the glory forever! Amen.
. . . . .
I'd love to hear about your 2013. If you are a blogger, please link to your 2013 recap post in the comments! If you don't blog, just comment below and tell me some of the things from 2013 that you will never forget.